Photographer Stonehenge Videographer Stonehenge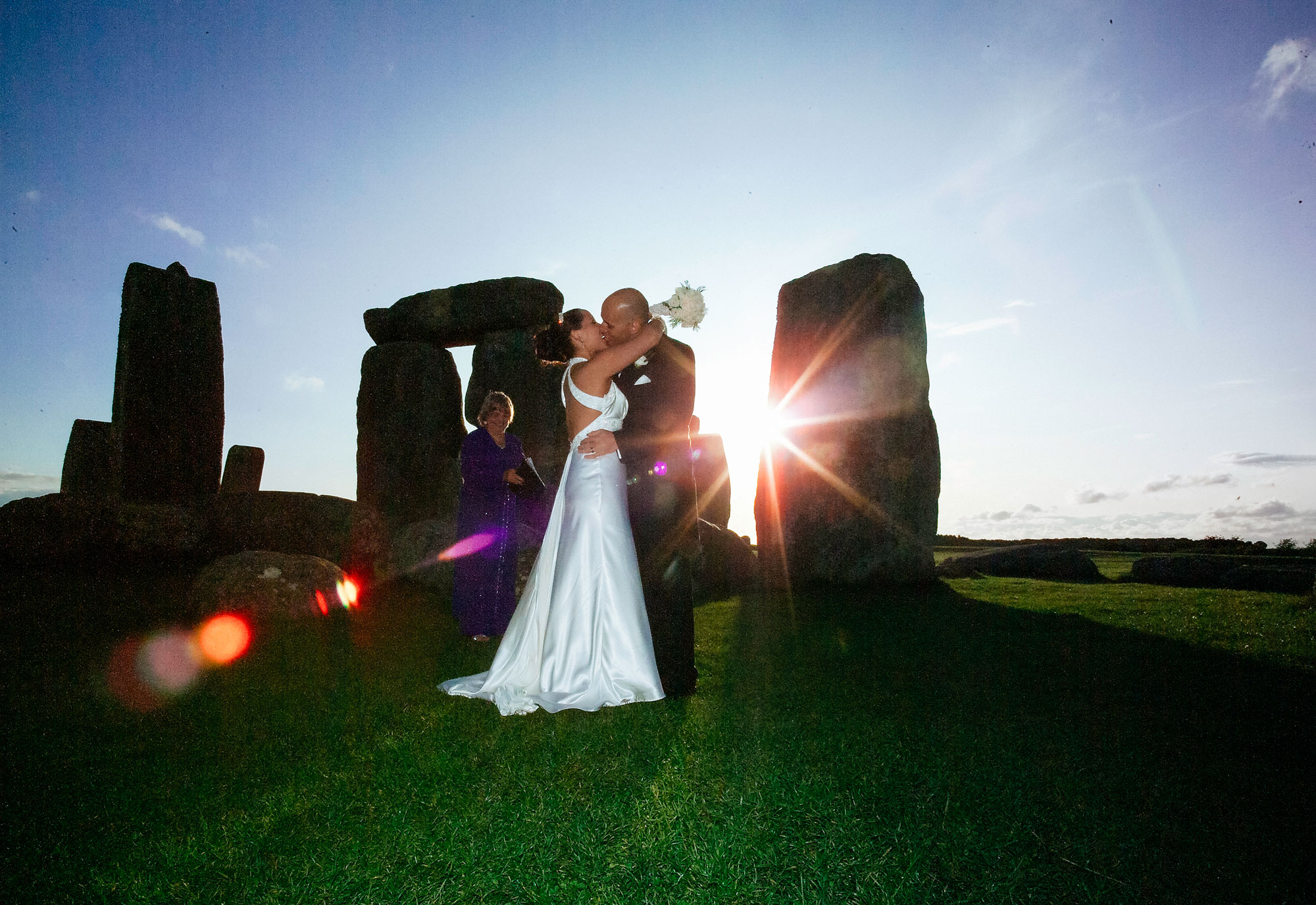 Photographer for Handfasting Ceremony Stonehenge Videographer for Handfasting Ceremony Stonehenge
Photograph of Handfasting Ceremony Stonehenge …No Filters!!
Handfasting Stonehenge.
This is when the couple base the entire ceremony on and around the handfasting. Usually held outdoors, maybe in a forest or woodland area.
Stonehenge* is a special location for handfasting. The inner circle has been closed to public access since 1978. However, we are able to obtain permission to have a wedding ceremony and/or handfasting within the inner circle of stones. This can be arranged at dawn or dusk. A Full handfasting will include 'Calling on the Elements within a Ceremonial Circle'.
Handfasting, following the Celtic tradition, is a betrothal or wedding ritual in which the couple's clasped hands are draped with a cord or ribbon while the couple holds hands.
The 'tying the knot' is sometimes referred to as 'Bonds of Matrimony'.
This is an ancient, Celtic, nature-related, spiritual tradition that took place long before weddings became a legal function of the UK government. It is an old ceremony of commitment, first recorded 4,000 years' ago!
This Celtic ceremony of unity represents the intention of two people to make their lives together and ideally to love and cherish one another. Their hands, or more accurately, their wrists, were literally tied together. Each partner holds the hands of the other – right hand to right hand, left hand to left – their wrists crossed. The ribbon is wound around the wrists over the top of one and under and around the other, thus creating the infinity symbol.
ONE YEAR and ONE DAY Handfasting
a betrothal of a year and a day, which the participants can then decide whether to renew or not at the end of that period.
PARTIAL Handfasting
Sometimes a couple prefer a Traditional Wedding Ceremony and include a handfasting as part of their ceremony – immediately after saying their vows.
CALLING ON THE ELEMENTS:
According to Celtic Spirituality, God is found in all things, not only the human heart, but also in all of God's creations.
The elements of Earth, Fire, Air and Water are called upon to cast blessings upon the couple. The ritual is designed to enable us to get in touch with the life force within ourselves, to sense an interconnectedness with all life, and to access the energies of the living earth.
THE CEREMONIAL CIRCLE
Handfasting is conducted in a circle, which is a symbol of eternity – sign that life, love and happiness have no beginning and no end. All who enter the circle must do so in perfect love and keep sacred the ceremonial space.
"The most beautiful and memorable Handfasting and Marriage Ceremony is assured"
*STONEHENGE: Since 1978 visitors are no longer permitted access within the circle of stones.
It is highly probable we can arrange your ceremony WITHIN the Circle of Stones at sunrise or sunset.
Just how special will that be? Wedding, Renewal of Vows or a Handfasting?
We can also we can help plan your Stonehenge Wedding
Assistance Obtaining the English Heritage Stonehenge Access Permit
Lodging/Camping Reservations
Arranging Transportation
Reception Coordination
Vendor Coordination
Catering Coordination
Cake Selection
Meal Planning
Rentals
Flowers
Decorations & Favors
Photography
Videography
Music & Musician's
Hair & Make-Up
Local Knowledge, Maps & Ideas